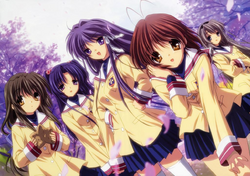 ---
Clannad Wiki
Wiki founding
: June 4, 2009
Page count
: 196
Last checked
: December 21, 2016
---
Genre:

Drama , Fantasy , Romance , Slice of Life 

Tags:

Media:

Anime, Manga, Light Novel, Visual Novel, OVA, Film, Game
Clannad (クラナド, Kuranado) is a Japanese visual novel created by the software company Key, who also produced the successful titles Kanon and Air. Key released a limited version for the PC on April 28, 2004, and the regular version less than four months later on August 8, 2004. The visual novel was later ported to the PlayStation 2, PlayStation Portable, and Xbox 360. The gameplay in Clannad follows a linear plot line, which offers pre-determined scenarios and courses of interaction, and focuses on the appeal of the five female main characters.
While both of Key's first two previous works, Kanon and Air, had been released first as adult games and then censored for the younger market, Key's third work Clannad was released for all ages and does not contain risqué situations or even any fan service. On November 25, 2005, Key released an adult sequel-of-sorts entitled Tomoyo After: It's a Wonderful Life which expands the scenario of Tomoyo Sakagami, one of the five heroines from Clannad.
Clannad has made several transitions to other media. There have been four manga series: the first serialized in the Japanese magazine Comic Rush, the second serialized in Comi Digi +, the third serialized in Dengeki G's Magazine and Dengeki G's Festival! Comic, and the fourth in Dragon Age Pure. An animated film by the animation studio Toei Animation was released on September 15, 2007, followed by two anime series including two original video animation episodes by Kyoto Animation, which also animated the previous Key titles Air and Kanon. Lastly, there are two sets of drama CDs, totaling nine in all. ADV Films localized and distributed the first Clannad anime series in North America starting in March 2009.
The visual novel and the animated adaptations including the two TV series and film have received high sales figures in Japan. Across the national ranking of bishōjo games in amount sold in Japan, the Clannad limited edition PC release premiered at number one twice since its release, and the third ranking brought the PC release down to forty-six out of fifty. Out of eight DVDs released for the first Clannad anime TV series, six were ranked first during their first week of sales for anime DVDs in Japan. Out of eight DVDs released for Clannad After Story, seven were ranked first during their first week of sales. The special edition film DVD first ranked at number three during its first week of sales.
External Links
Edit
Other Sources
Edit
Other Wikis
Edit
References
Edit
Ad blocker interference detected!
Wikia is a free-to-use site that makes money from advertising. We have a modified experience for viewers using ad blockers

Wikia is not accessible if you've made further modifications. Remove the custom ad blocker rule(s) and the page will load as expected.