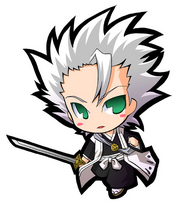 Chibi
(ちび; can also be written 禿び) is a Japanese word meaning "short person" or "small child." The word has gained currency amongst fans of
manga
and
anime
. Its meaning is of someone or some animal that is small. It can be translated as "little," but is not used the same way as
chiisana
(tiny, small, little in Japanese). A prototypical example of the former usage in the original Japanese which brought the term to the attention of Western fans is
Chibiusa
, a pet name for the diminutive daughter of
Sailor Moon
formed from
Chibi Usagi
("Little Usagi").
In English-speaking anime and manga fandom (otaku), the term chibi has mostly been conflated with the 'super deformed' style of drawing characters with oversized heads or it can be used to describe child versions of characters.
Chibi style is usually used in depicting scenes which are cute and/or humorous, and it is extremely rare for it to be used for an entire anime series. It is quite popular in manga, however.
Ad blocker interference detected!
Wikia is a free-to-use site that makes money from advertising. We have a modified experience for viewers using ad blockers

Wikia is not accessible if you've made further modifications. Remove the custom ad blocker rule(s) and the page will load as expected.