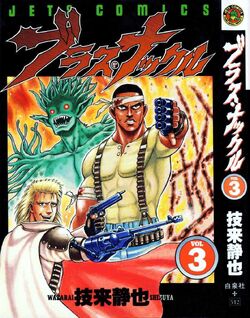 ---
---
Genre:

Tags:

Seinen , Historical 

Media:
Blaster Knuckle ( ブラス・ナックル) is a manga series by Shizuya Wazarai, serialized in Young Animal during 1992.
Take yourself back to the 1880s where the KKK is thriving and the African American community lives in fear. The African Americans don't fear the KKK simply because they beat, rape, and kill them. No. They fear the KKK because the KKK eats them. They are the aptly named man-eaters, a kind of mix between werewolves and vampires. They consume human flesh, can shapeshift into various forms, and are practically immortal. Only one man, an ex-heavyweight boxer named Victor Freeman, dares to stand up to them. Equipped with a small arsenal and a set of modified brass knuckles, can our hero defend his people and avenge his past?
External Links
Edit
Other Sources
Edit
Other Wikis
Edit
References
Edit
Ad blocker interference detected!
Wikia is a free-to-use site that makes money from advertising. We have a modified experience for viewers using ad blockers

Wikia is not accessible if you've made further modifications. Remove the custom ad blocker rule(s) and the page will load as expected.