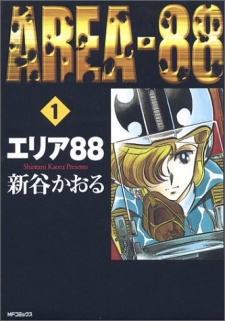 ---
Area 88
Wiki founding
: August 16, 2015
Page count
: 2
Last checked
: January 24, 2016
---
Wiki is Adoptable
---
Tags:

Military 

Media:
Area 88 (エリア88 Eria Hachi-Jū-Hachi?) is a Japanese manga series by Kaoru Shintani serialized between 1979 and 1986. The story is about a young pilot named Shin Kazama and his experiences at Area 88, a mercenary air force base secluded in the desert of a war torn country. Shin goes from head of his class at a world renowned aviation school dating the beautiful daughter of an airline president to a mercenary fighter pilot bound to Area 88 by a three-year contract that he was duped into signing by a jealous and competitive childhood friend. Determined to earn $1.5 million to buy his way out of the obligation and return home, killing becomes second nature to Shin as he quickly rises to the top rank at Area 88. Overwrought with shame and self-loathing for what he has become, Shin begins to question whether he is still fighting for survival, or like his fellow mercenaries, for the sheer excitement and camaraderie of battle.
Area 88 was among the first three manga to be translated into English and published in North America. It has been adapted into a theatrical film, two anime series, the first an OVA originally published in 1985 and the latest, a 12-episode anime television series, which premiered across Japan on the anime television network Animax in 2004, and a video game, released in North America as U.N. Squadron. It is also a brand of model aircraft in Japan. While it appeals to aviation fans for its realistic depictions of aircraft and aerial combat it has also been critically acclaimed for its strong character development and Shintani's poignant storytelling, combining action, tragedy, romance, and comedy. In 1985, the manga received the Shogakukan Manga Award for shōnen.
Shin Kazama was an airline pilot who was close to marrying Ryoko Tsugumo, the daughter of the CEO of Yamato Airlines. Unfortunately, fate had other plans when his former best friend Satoru Kanzaki tricked him into signing a contract to be a mercenary pilot for the Kingdom of Asran. Now stationed at the Middle Eastern country's base Area 88, Shin has three ways to return to Japan: serve the air force for three years, earn US$1.5 million, or desert the base, facing imminent death.
External Links
Edit
Other Sources
Edit
Other Wikis
Edit
References
Edit
Ad blocker interference detected!
Wikia is a free-to-use site that makes money from advertising. We have a modified experience for viewers using ad blockers

Wikia is not accessible if you've made further modifications. Remove the custom ad blocker rule(s) and the page will load as expected.