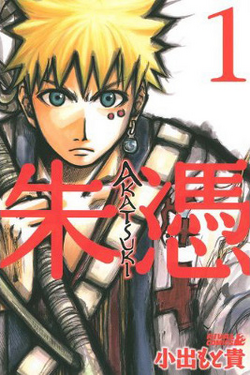 ---
---
Genre:

Action , Adventure , Fantasy , Shōnen

"Shōnen" is not in the list of possible values (Action, Adventure, Comedy, Drama, Fantasy, Horror, Mecha, Mystery, Psychological, Romance, Science Fiction, Slice of Life, Sports, Supernatural, Yaoi, Yuri, Hentai) for this property.

Expression error: Unrecognised word "span".

Tags:

Media:
Akatsuki (AKATSUKI -朱憑-) is a shounen Japanese manga series written and illustrated by Motoki Koide and was published in Shōnen Rival.
Akatsuki: a powerful demon of illness, which infects victims, turning their eyes red, and slowly kills them. Usually, they take the form of a strong monster connected to the victim's body. The only way to cure the victims infected with Akatsuki is to slash the victim's body with special anti-Akatsuki weapons, known as "Crave." The people who possess and use these weapons are called "Kiri-Isha" (Slash Doctors). Hibiki, the protagonist of this story, is a Kiri-isha. He is partnered with Kirisa, another Kiri-Isha. Their mission is to cure people infected with Akatsuki.
External Links
Edit
Other Sources
Edit
Other Wikis
Edit
References
Edit