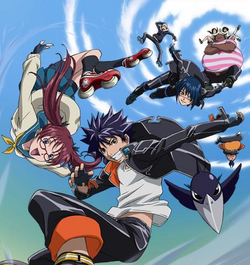 ---
Air Gear Wiki
Wiki founding
: September 28, 2007
Page count
: 246
Last checked
: February 4, 2015
---
Air Gear (エア・ギア, Ea Gia) is a shōnen manga by the mangaka Ito "Oh Great" Ōgure. Air Gear is about the life of Itsuki Minami, also known as "Baby face" and "Lil (and Little) Crow", and his friends. The story follows their use of Air Trecks, an in-universe invention derived from inline skates. The early parts of the story carry out the introduction of characters that eventually join Ikki. As the story progresses, it focuses on their roles as Storm Riders and their quest to be on the top of the Trophaeum Tower. It won the 2006 Kodansha Manga Award in the shōnen category.
Itsuki "Ikki" Minami, is a student and a delinquent. Also known as the "Unbeatable Babyface", Ikki is the leader of the youth gang by the name of "East Side Gunz". Upon his return home, after being humiliated by a Storm Rider team called the Skull Saders, Ikki discovers a secret hidden from him by his benefactors, the Noyamano sisters. The sisters belong to a group of Storm Riders who go by the team name of Sleeping Forest. In the anime, learning the sisters' secret angers him and he steals a pair of Air Trecks, abbreviated as "AT". (In the manga, the sisters give a pair of ATs to him and invite him to skate with them.) Ikki eventually settles his grudge with the Skull Saders, but in the process he receives more than the simple satisfaction of revenge. Determined to experience the sensation of "flight" for as long as he can, Ikki is quickly engaged in the mysterious, irresistible world of Air Treks.
External Links
Edit
Other Sources
Edit
Other Wikis
Edit
References
Edit
Ad blocker interference detected!
Wikia is a free-to-use site that makes money from advertising. We have a modified experience for viewers using ad blockers

Wikia is not accessible if you've made further modifications. Remove the custom ad blocker rule(s) and the page will load as expected.