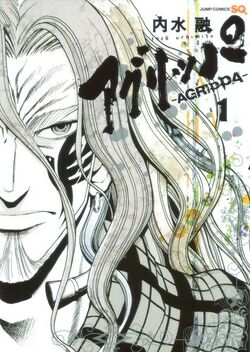 ---
---
Genre:

Action , Adventure , Shōnen

"Shōnen" is not in the list of possible values (Action, Adventure, Comedy, Drama, Fantasy, Horror, Mecha, Mystery, Psychological, Romance, Science Fiction, Slice of Life, Sports, Supernatural, Yaoi, Yuri, Hentai) for this property.

Expression error: Unrecognised word "span".

Tags:

Historical 

Media:
Agrippa (アグリッパ, Agurippa) is a Japanese manga series written and illustrated by Tooru Uchimizu.
In 52 B.C., the Chieftain of the Arveni tribe, Vercingetorix, united the Gauls in a major revolt against the power of the Romans. This is his story, beginning with his rise to power. In one of the tribes, he rescues the 11-year-old Taranis, the only son of a Gallic hero who was executed by the Romans. Taranis follows Vercingetorix as he raises his army to fight for the freedom of Gaul.
External Links
Edit
Other Sources
Edit
Other Wikis
Edit
References
Edit